We Provide A Wide Range Of Creative Services
We take care of your brand and provide creative services from Brand Development, Videos, Films, Animation, TV Commercials, Multimedia, Product Design & Development, to Digital Media & Social Media.
In this ever-growing, competitive market, a brand needs a creative partner to make it stand out. That's where we step in. From logo and brochure design to advertising in print, T.V., outdoor and digital, we take brands from ideas and build them into successful identities.
Animation brings an idea to life. At Bursto Multimedia, we work on scripting, storyboarding, animatics, filming, music creation, composting, VFX, rendering, editing, and final films. From script to screen we bring brands closer to their audiences by creating animation films that inspire, engage, & compel.
2D Classical Animation 
2D Flash Animation
3D Animation
Motion Graphics
We offer photography and videography services for films, products, brands and fashion, Ad films, short films, documentaries, web series, interviews, corporate videos, weddings, events & celebrations.
Films
Ad Films
TV Commercials
Short films
Web Series
TV Series
Corporate videos
Wedding
Events 
Documentary
From designing a logo and building websites to advertising in print, TV, online, & social media, we help ideate brands from scratch to give them unique personalities that capture a permanent place in the minds of customers. We take brands from ideas and build them into successful identities.
Logo Design
Brochure Design
Product Design
Business & Invitation Cards
Catalogue & Pamphlet Design
Flyer/Mailer Design
Ad Design
Social Media Posts 
Banner Design
Poster Design
Stationary & Merchandise 
Packaging
Designing innovative products and toys to meet comprehensive and promotional needs of brands, we help brands grow their business, reach and portfolio with designing breakthrough products for them.
We work from ideation, sketch, concept design, 3D model, CAD, engineering drawing, prototype to artwork and packaging. 
Concept Design
3D model
CAD design
Engineer drawing 
Prototype
Artwork
Packaging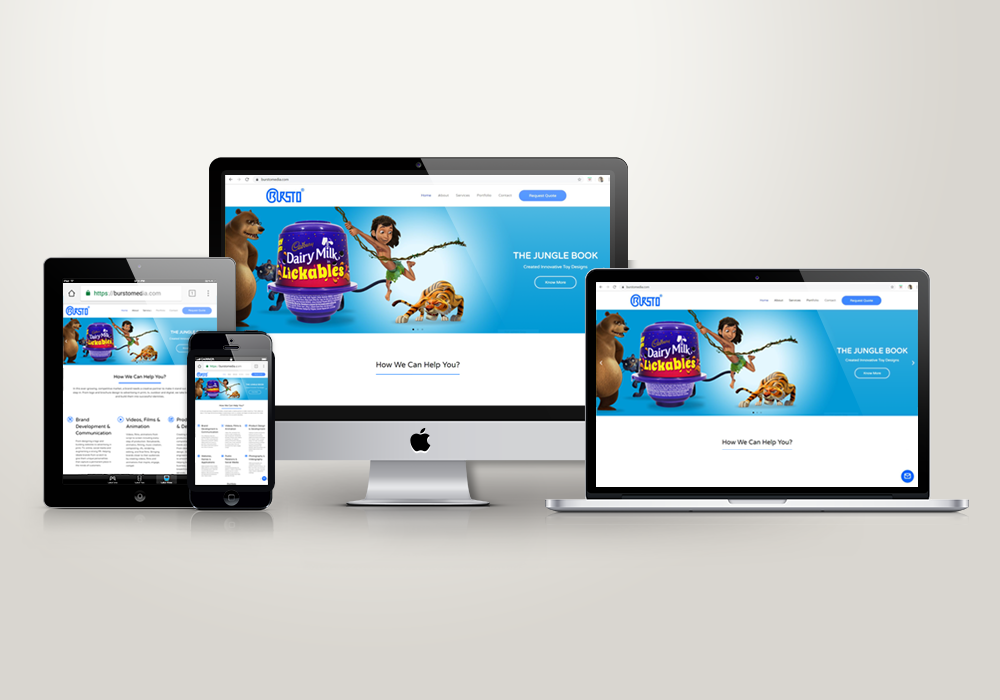 WEBSITE DESIGN
& DEVELOPMENT
Websites marks the online presence of your brand. A website conveys your brand personality to the visitors worldwide. At Bursto, we build websites utilizing the state of art technologies, which brings online success to your business.
Responsive Websites
E-commerce Websites
Corporate Websites
Business Websites
Single page or Multiple pages website
We make mobile apps for multiple-platforms like Android, IOs, etc. We have a team of skilled and dedicated programmers who have rich experience in developing standard mobile apps that deliver clients requirements.
It's often said that "it takes money to make money." For a business to stand out in this competitive market, it is essential to advertise about what is being offered by that brand. Our creative team work dedicatedly to curate advertising campaigns that are creative, engaging and which compels the audience to take relevant actions. We design ads that make an impact.
Newspaper
Magazine
Television
Radio
Outdoor
Transit
Airport
Social Media
Giving your brands the correct platform to shine, and maintaining relationship with your customers and prospects is the key to Social Media success. We help bring social media success for our clients by designing and executing the most effective Social Media Marketing Campaigns.
Campaign Development & Execution
Content Design & Development
Analytics
Platforms: Facebook, Instagram, Twitter, YouTube, etc
Media Planning and buying is both science and art. From strategizing, negotiation to placement of ads, it involves both scientific and artistic knowledge. At Bursto Multimedia, we have a team of skilled media buyers who understand profitable media buying. We bring brands advertising success by placing their advertisements through the best medium and to the right target audience.
Newspaper
Magazine
Television
Radio
Outdoor
Transit
Airport
Social Media
Let's Make Awesome Things, Together.
Tell Us About Your Project.